Must Dos In Dallas Part II Well Maybe Ft Worth REATA
I'm usually sticking to the Dallas area but today we are venturing out to historic downtown Ft. Worth. My husband and I did a little get away out of Dallas and traveled to the far reaches of Ft. Worth for the Colonial! We wanted to splurge on a nice dinner the first night and a couple people recommended Reata. We were also told make sure you have a reservation, which we made! The night we went there was a 2.5 hour wait - SO make your reservations!

We were greeted by the hostess and manager. They asked if this dinner was special occasion and we said oh just a little getaway for ourselves. We were asked to get a drink at the bar while our table was being prepared and was very impressed by the bar! It's huge and the bartenders are on the spot with their drinks!

When our table was ready we followed the hostess to the table and shortly after the manger came with a complimentary appetizer - The Tenderloin Tamales with Pecan Mash. TO DIE FOR! For our entree I enjoyed the Pork Shank with Chorizo Black-Eyed Pea Hash and Garrett ordered the Steak and Lobster. Every bite was better than the last! Not only was the food amazing but to speak more on the staff, our waitress was efficient, timely, knew the menu backwards and forwards. Now time for the dessert, oh my and when they describe the desserts it is a phenomenal presentation that includes,

-Dessert Tacos with Caramelized Bananas and Chocolate Gravy. Chocolate Bread Pudding Tamale.
-West Texas Pecan Pie.
-Dutch Oven Apple Crisp with Cajeta.
Molten Chocolate Cake with Drunken Berries and Vanilla Cream. Creme Brulee.
-Homemade Banana Pudding.
-Seasonal Fruit Cobbler with Vanilla Ice Cream.
WHAT?!?
We ordered the Apple Crisp and Pecan Pie and it was again an amazing choice!

This place is a must must do in Ft. Worth!


Pork Shank with Chorizo Black-Eyed Pea Hash.
Pork Shank with Chorizo Black-Eyed Pea Hash.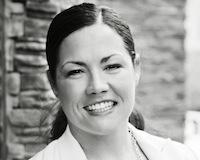 Author:
Ciearra Harless
Phone:
214-536-6362
Dated:
September 4th 2014
Views:
761
About Ciearra: About Halo We understand that for many people, buying or selling a home is probably the largest i...